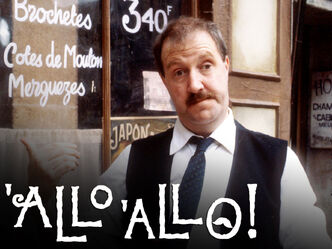 'Allo 'Allo! is a British sitcom broadcast on BBC One from 1982 to 1992 comprising eighty-five episodes. It is a parody of another BBC programme, the wartime drama Secret Army and was created by David Croft, who also wrote the theme music, and Jeremy Lloyd. Lloyd and Croft wrote the first 6 series. Series 7 onward was written by Lloyd and Paul Adam. Lloyd and Croft were also responsible for the popular sitcom Are You Being Served?. In 2004, 'Allo 'Allo came 13th in Britain's Best Sitcom.
Set during World War II, 'Allo 'Allo! tells the story of René Artois, a French café owner in the town of Nouvion (the town square was based on a courtyard at Lynford Hall, Norfolk where the pilot episode was shot).[2] Germans have occupied the town and stolen all of its valuable artifacts. These include the first cuckoo clock ever made and a painting of The Fallen Madonna by Van Klomp (known to those who have seen it as The Fallen Madonna with the Big Boobies). The local commandant has decided to keep them for himself after the war and forces René to hide the painting in his café. Hitler also wants the painting and sends Herr Otto Flick of the Gestapo to the town to find it. Flick, in turn, conspires to keep it. The paintings are duplicated by a forger, get mixed up and put in knackwurst sausages. One is sent to Hitler on an ammunition train, which gets blown up, one is hidden, and the other is eaten for dinner by Flick himself.
Main Characters
Edit
Community content is available under
CC-BY-SA
unless otherwise noted.