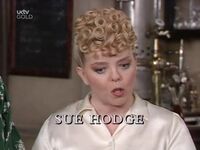 Mimi Labonq
is a fictional character on the BBC situation comedy 'Allo 'Allo!. She first appeared in the fourth season, and stayed with the show until the end.
Personality
Edit
Mimi is small, blonde and athletic, and passionately hates Germans. Before joining the Resistance in Nouvion and a waitress at Café René, Mimi was a gang-leader in Paris. Rene Artois, her employer, has to remonstrate with her about her enthusiasm for German-killing: "If you poison them here, people will think that it was our food that did it!" Besides homicide, her talents include singing, which provokes some friction with Rene's wife Edith Melba Artois. When she started appearing on the show, she was mostly portrayed as stiff and rarely even smiled. She eventually became more easygoing as the story went on.
Like the other waitresses, Mimi is soon having an affair with Rene, and is not above being taken upstairs by patrons of Rene's cafe. At one point, she comes across a large amount of money that does not belong to her, and observes: "A good girl would not even think of taking this money - good thing I'm a tart!" as she helps herself to a good share of the cash.
Her room can be reached by turning left at the top of the stairs, before proceeding to the second door past the linen cupboard.(The Jet-Propelled Mother-In-Law).
After the war, she seems to have stayed on at the cafe.
Talents and abilities
Edit
Mimi is an extremely talented woman with several skills of many kinds.
Leadership skills - Mimi is noted to have been a notorious gang-leader in Paris, and also a Communist warrior who was greatly feared by the Nazis.
Singing - Unlike Madame Edith, Mimi is an extremely capable singer and an undoubtedly skilled musician.
Duelling - Mimi is an incredibly talented combatant, with astonishing athletic capabilities, and an extremely aggressive style.
Community content is available under
CC-BY-SA
unless otherwise noted.